You bring the experience.
We bring everything else.
Experience
Requirements
You belong on Overpass if you've been seriously involved in:
B2B sales
Business development
Virtual Assistance
Appointment setting
Customer Support/Success
Outbound sales
Technical
Requirements
Just bring the basics to work remotely on Overpass.
Headset with mic
Web connection
Quiet place to work
PayPal account
Build your career
on Overpass
Grow Your Earnings
Businesses on Overpass reward excellence. As you produce results for clients, you raise demand for your services – and your income.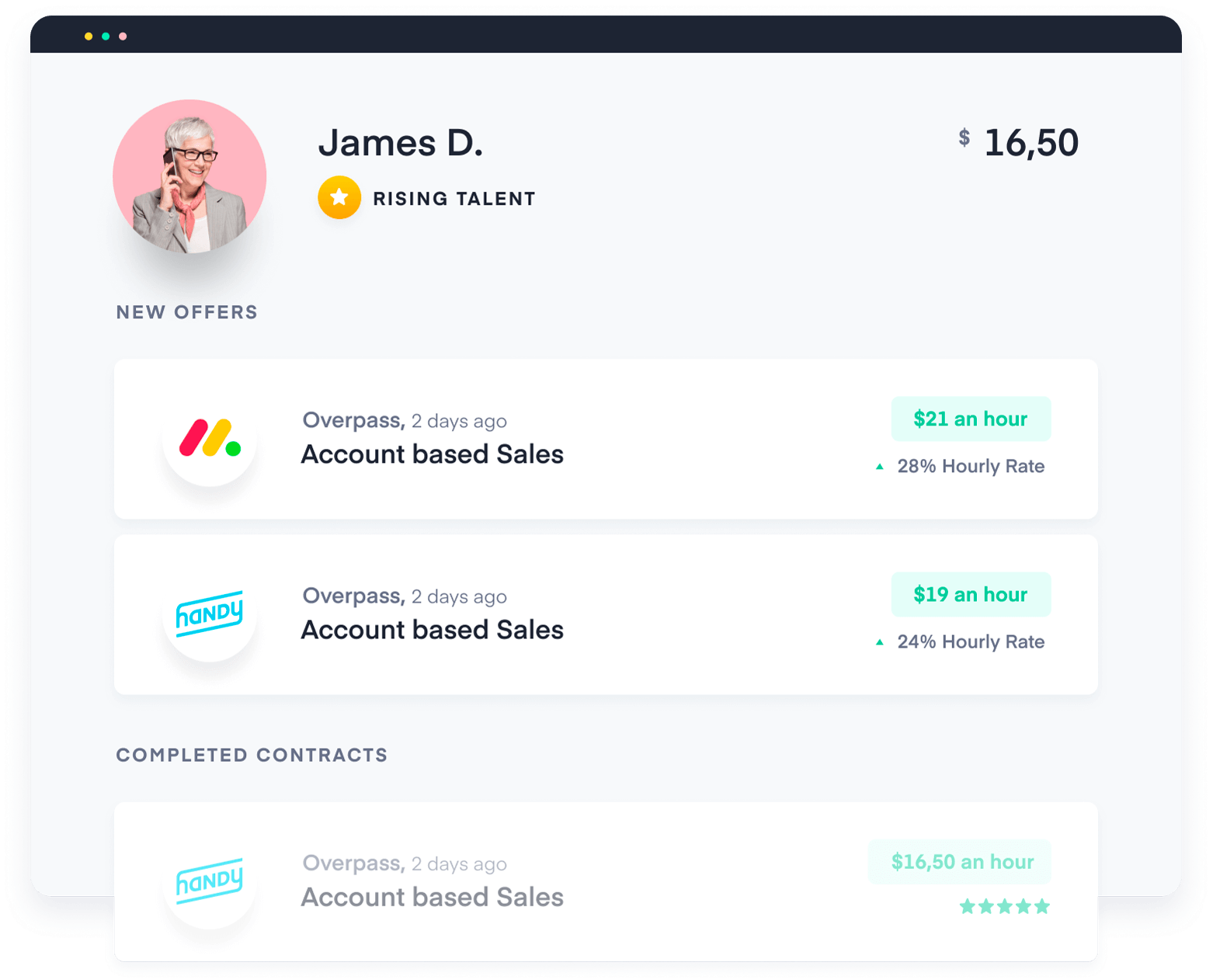 Build Your Reputation
By promptly responding to interview requests, consistently showing up for interviews, and completely fulfilling your contracts, you build your reputation and get more of the work you covet most.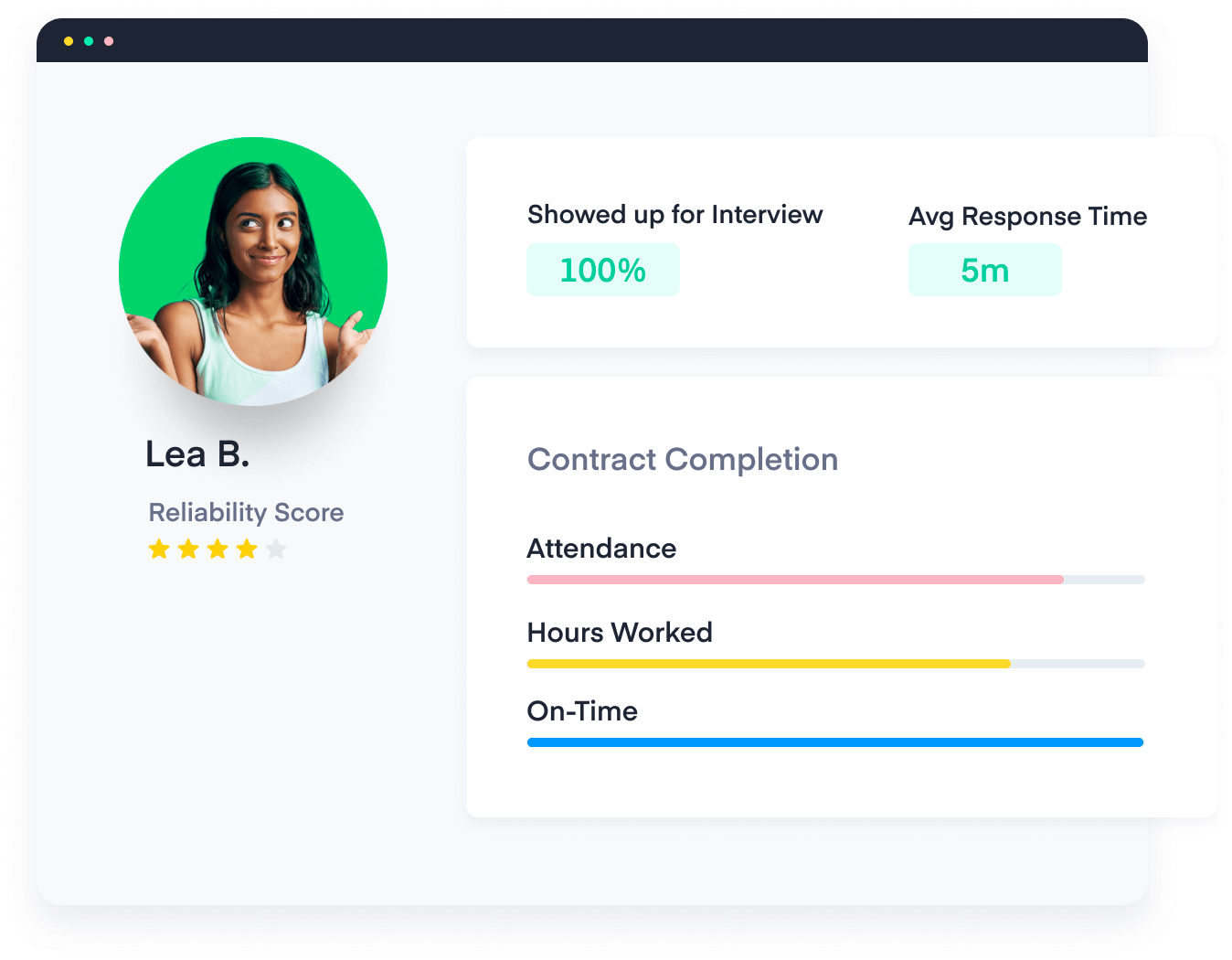 Supported journey
Profile Guidance
Dedicated Overpass Talent Advocates guide you through the full process – from optimizing your profile to engaging with prospective clients and securing the positions you deserve.
Product Training
To get you off on the right foot, an Overpass Talent Advocate jumps on an onboarding call with you to ensure you make the most of the platform. We'll even do a kickoff call with you and your client so you hit the ground running.
Client Mediation
Issues with clients happen. When you're on Overpass, you're never alone. Have a non-responsive client? Rocking your lead gen efforts but need to request more hours this week? We're always ready to assist.
Career Education
Overpass builds your career in a variety of ways. We offer a range of skill-building training programs – including best practices relating to a range of positions – to help you be the best remote sales or support professional you can be.
Timelines
Create Your Profile
Your first step in becoming an Overpass rep is to create your profile, which serves as your online resume in our marketplace. Be sure to list all of your previous relevant work experience. Especially valuable are any past performance metrics (such as how many sales you closed per month, or clients you supported). You'll also need to record 3 voice samples.

Once the checklist on the left side of the page has been completed, your profile will be automatically submitted to our team.
Profile Review and Approval
Within 5-7 business days of your submission, one of our Talent Advocates will reach out to schedule a brief phone conversation. During this call, we'll review your profile and learn more about your background. If we think you're a good fit for our marketplace, you'll be approved that day.
Apply for Positions
Once you're approved, it's time to begin applying to jobs in our Marketplace! Our most successful reps apply to 20+ positions every week. Be sure to only apply to roles that interest you and fit your schedule, however. You'll be able to add a brief note with each application -- remember to be as professional as possible to give yourself the best chance.
Interview Requests & Interviewing
By the end of your first month on the platform, most reps will have received at least one or two interview requests. Once you receive that initial email, you'll usually receive a call from the client within 48 hours. If you need help connecting with the client, reach back out to your Talent Advocate.

After a successful interview, the client will send you a contract offer. If the hours and pay work for you, go ahead and accept! If you need to negotiate the pay or hours, let us know.
Training & Getting Started
Once you've accepted a contract, you'll need two brief training sessions. First, an Overpass employee will give you an overview of our system, so you feel comfortable using our platform. Afterwards you'll be able to take expert-led sales courses in the Overpass Sales Academy. Then, you'll have a "kickoff call" with the client themself, to learn more about their specific product or service. Then you're off to the races!
Frequently Asked
Questions
Overpass is a global talent marketplace that makes it simple for sales and support reps to find jobs with reputable companies all over the world. We also make it fast & simple for clients to find, interview, hire, onboard and pay pre-vetted and qualified talent from one platform.
We happily accept contractors from all over the world! However, the majority of our clients are based in the United States, and need reps who speak fluent English and are available to work during daytime hours in the U.S. Depending on your location, this may require working evening or overnight hours.
To work in the Overpass platform, you will need all of the following:
1. Previous experience (At least two years of prior work in sales or 4 years in customer support).
2. A desktop or laptop computer.
3. A headset, or headphones with a built-in microphone.
4. A quiet place to work with a reliable internet connection.
While every client and company is different, all jobs through the Overpass marketplace are primarily focused on making outbound sales calls from an existing list of contacts or supporting clients with administration or customer support tasks.
Yes and no. When you create your profile, you can specify exactly which days and times you're available to work. You can adjust your availability as needed, and you're never obligated to accept a contract that doesn't fit your schedule. Once you do accept a contract, however, you are expected to adhere to those regular shifts.
As a contractor, you can specify your own hourly rate, and our Talent Advocate team will suggest a competitive starting rate based on your professional background. Rates generally range from $3/hour up to $30/hour, depending on your skills and industry expertise.
The first step to becoming an Overpass contractor is to create a profile in our system. Click Become An Agent, enter your email address, then tell us about your experience and work history. Remember that our clients are focused on your sales or support expertise, so emphasize those parts of your experience, even if those roles are not your most recent. Once your profile is completed, we will review it and contact you to discuss next steps.
Overpass helps hundreds of business clients hire reps around the globe. Optimizing your contractor profile allows you to stand out as a contractor. Your profile listing is what will help you become noticed by reputable companies who are ready to hire the best fit for their remote sales or support team. Utilize your profile to showcase your sales skills, industry knowledge, and relevant experience so that clients know from first glance that you're the right fit for their company. Be mindful that your skills may not perfectly match the needs of a client you want to work with. This doesn't mean you shouldn't apply. Many Overpass clients offer paid training which demonstrates their willingness to invest in their contractors' skills.
There are many benefits of remote work. To start, remote work enables you to set up your work environment wherever you are. It's an ideal option for people living in remote areas and for those who don't want to commute. As a remote worker, you'll save time during your day because you won't have to commute and you won't have to worry about incurring additional expenses like gas or transit passes.

Another remote work benefit is that in many cases, you can set your own hours. As a contractor, you decide from the start if a full-time or part-time schedule works best for your lifestyle. Depending on the terms of your contract, you may be able to take on more hours or pull back on hours if your needs change. Remote work offers scheduling flexibility that working in an office may not offer.
As a contracted rep, your income will be guaranteed for the term of your contract. As long as you meet the required hours, keep up with your assigned duties, and maintain a good working relationship with your client, you will receive a weekly paycheck through Overpass' payroll system through PayPal. When completing your profile, set your hourly rate to a price that makes sense for your lifestyle.

Keep in mind that with any position, employee or freelance, employees may cut positions indiscriminately and for many reasons. The United States has at-will employment laws in place, meaning that unless a union protects you, you can be let go at any time. Should this occur, and as long as you remain in good standing as a freelance agent within the Overpass marketplace, our team of experts will work to pair your skills with the needs of a new client.
Contractors are paid through the Overpass payroll system and need a PayPal account to receive their weekly pay. PayPal is accessible in over 200 countries and converts funds into 25 different currencies.

If you don't already use PayPal, setting up an account is simple. First, to confirm that your country has access. Then use your personal email address to create an account. You will need to link a bank account, credit, or debit card to receive your funds. Once your paycheck is received, you can transfer the money directly from your PayPal account and into the personal account of your choosing.
Yes, it is legal for you to work for a company located in another country. As a contracted sales or support rep, you will not need a visa or permit to work for a company located in a different country than your own.

Remember that as a contractor, you should consider yourself a business rather than an employee. No matter where the company you serve is located, payroll taxes and other expenses will not be deducted from your pay. This is because you are considered an independent contractor, not a company employee. You will be responsible for paying taxes at the end of the year based on the annual revenue you receive from the company or companies you work for.
Choosing the right contract and company requires several considerations. If pay is important to you, you may choose to take the most lucrative contract offer. Others may choose contracts based on the types of tasks they will be required to perform. This may be a top consideration for someone who has worked in remote sales positions for years but wants to expand their resume and gain experience in a new sales skill area and increase your future contract prospects.

Another consideration to make when accepting the right contract for you is company culture. The best remote sales & support jobs allow agents to benefit from a positive workplace atmosphere. However, it's hard to account for the interpersonal dynamics of a company until you begin your role. To learn as much about a company as possible, perform a web search on the company as soon as they request an interview. Not only will this help you gain a deeper understanding of what the company does but it will also allow you to prepare relevant questions before your interview takes place. Asking questions is an excellent way to impress the company's HR department and ensure you make an informed decision before signing a contract.

When it comes to contractor and client relationships, we want all parties to be satisfied. As an Overpass contractor, you'll enjoy an added benefit that generic job boards don't provide. Our team of experts are available to help you navigate any client challenges and offer mediation if an issue arises. Rest assured that no matter where you are in the world, with Overpass you're never alone.
Visit our FAQ Page