Stack your team with reps that crush it
Thousands of remote sales and support reps across 40+ industries worldwide with the same skills, qualities, and values as your in-house team?! Yup, Overpass is the solution you've been searching for.
Reimagine your sales & support teams
Hiring local sales and support talent is so 2019. Expand your selling horizon with vetted reps in 100+ countries – without risking culture-fit and turnover.
The result? A faster recruitment time, limitless scalability, greater rep longevity, and a healthier bottom line.
A new way to hire
Post Jobs
Without Limits
Have an open position or two? Or ten? Create a free account and post away. You won't pay a cent until you make your first hire.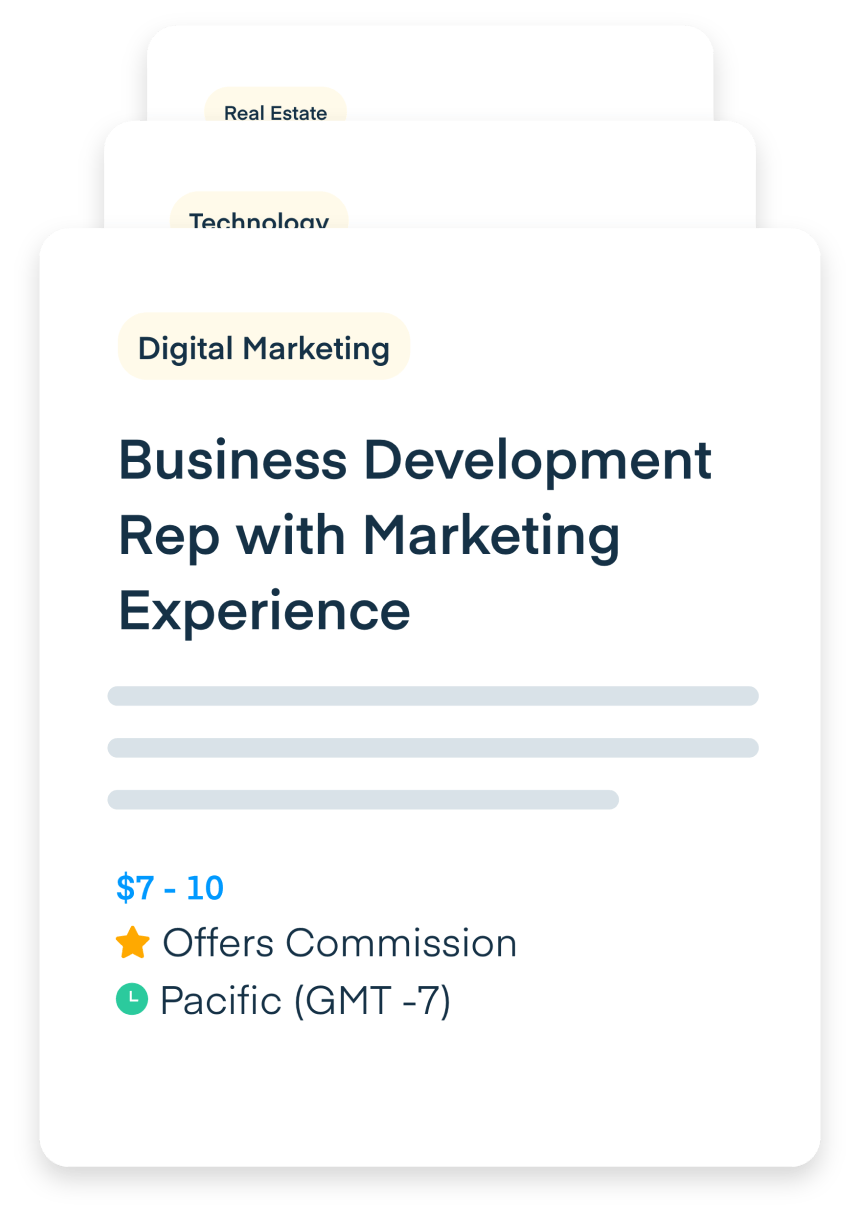 Supported
Interviews & Offers
Enjoy the ease and efficiency of tech-enabled hiring with support from real people. We're talking candidate matching, voice recordings, in-app video interviews, and templated offer letters and contracts – all from your dashboard.
Designed by the
Best, for the Best
Each expert-led course teaches and tests the skills it takes to become a sales rockstar
Certified Reps
Deserve to Stand Out
Reps who pass courses earn profile badges to showcase drive and commitment to learning
Empower Ongoing
Education
Utilize courses as additional team training ('cause there's no such thing as being over-educated)
Testimonials
"I love that Overpass lets us manage everything in one place. It's super helpful to be able to listen to voice samples and find quality salespeople that can grow with our team."
Michael Mahanay, VP and CMO at CTL
"Overpass really simplified our sales process. It's so easy for us to find talent, track our reps' time and progress, and pay them all from one platform."
Vitali, Principal of East Coast Medical Supplies
"I see Overpass being a long-term part of my business structure. Not just for this business, but also our future endeavors. The affordability, the flexibility, and ease of use can't be beat."
Nick Craig, CEO of Advisor Fuel